Specification
«Ocean-100» X-band radar is intended for vessels traffic service and coastal as well. «Ocean-100» provides navigation situation data accessing, required to control vessels traffic. The models, constructed on a solid-state transceiver, are able to detect targets of small dimensions in difficult weather conditions. A wide range of antennas allows the installation of radar in accordance with the requirements for various locations and applications. «Ocean-100» type radar is a perfect solution for surface surveillance in port and coastal area, channels and other waters.
Configuration
The model range includes radars, based on different transceiver technology (pulse and solid-state), antennas of different lengths, and also reservation of the transceiver.
Transceivers
Х-10 – pulse transceiver.The standard version of the transceiver is based on the use of a magnetron with a high-voltage modulator.
Х-20 – solid-state transceiver. The transceiver uses a «complex» signal and is constructed on a solid-state amplifier with a maximum output power of up to 100 watts. This combination allows, with low radiated power, to detect ships and other surface targets at distances not less than a pulse transceiver with a power of 35 kw. These transceivers have increased noise immunity from other radars and weather conditions.
Antennas
The antenna series includes 3 modifications with a longitudinal size of 12, 18 and 21 feet, with parameters meeting all requirements to VTS radar stations of first, second and supreme category radar. Antenna drive provides rotation of the antenna at a speed of 18 - 60 rev/min at a wind speed of 50 m/s.
Waveguide Switch
Designed to build systems with redundant transceiver and serves to switch the antenna between the main and standby transceiver.
Technical specification
Transceiver
Model

Х-10

Х-20

Type

Pulse

Solid-state

Frequency

From 9410 to 9460 mhz

Power

25 kW

100 W

Power adjustment

No

Yes

Modulation type

Pulse modulation

Pulse phase modulation

Maximum distance

96 miles
Antennas
Model

А-12

А-18

А-21

Longitudinal size

12'

18'

21'

Beam width:
horizontal

0,9°

0,4°

0,35°

Beam width:
vertical

20°

20°

20°

Side lobe attenuation

≥25 db

≥25 db

≥28 db

Polarization

Horizontal

Rotation speed

18 ÷ 60 RPM

Wide speed (operating)

≤50 m/s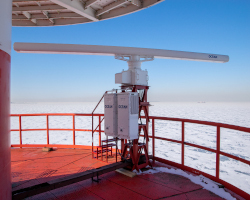 More detailed information you can find on web-site of SC «Rawenstvo»