«Irtysh-3S» is installed on coastal observation posts and intended for detection, automatic tracking of surface ships, cargo and transport ships, small-sized surface targets as well as low-attitude and low-speed air targets in open sea and littoral areas. «Irtysh-3S» determines target's coordinates and its movement parameters, displays radar image on indicator for situation awareness and provides a transmission of target's coordinates to the automatic data collection and processing system.
Functional performances:
computer processing of radar signal;
display of the radar situation and additional information on a flat-panel color display with high resolution and contrast;
range and heading measurement with electronic sighting devices with digital display;
wide variety of range scales in miles. Offsets center of radar image in any direction;
offsets center of moving range ring and beginning of electronic reticle;
availability of autocollisioning facility for up to 100 targets with indication of target movement parameters selected by operator;
effective jamming protection from waves, atmospheric precipitation and non-synchronous pulse interference;
inter-observation accumulation of radar signals;
display of traces of past target movement with adjustable duration;
display of electronic map of the area on the monitor screen;
pairing with external devices via RS-232, RS-422;
the system of control and fault location;
store custom settings;
the loupe mode allows to make the observation window with the ability to switch the scale of observation.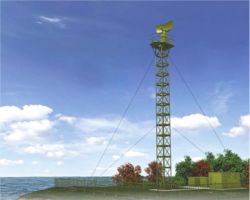 Produced by JSC «Saratovski radiopribornyi zavod»